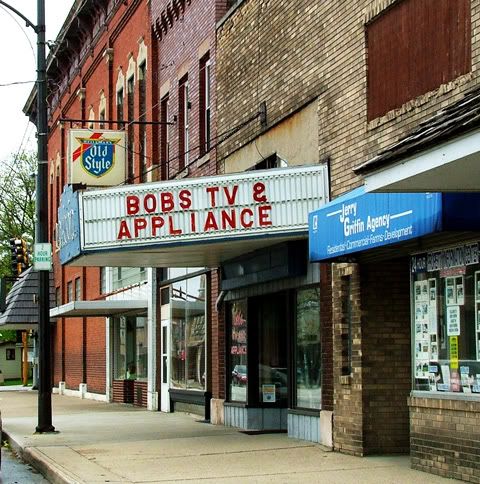 There's not one single big box store in Oregon, Illinois. You'd have to drive up to Rockford if you're looking for the chains or big department stores. Oregon is strictly mom-and-pops. You can probably tell that Bob's once housed the local movie theater. Just around the corner from Bob's is a TV repair shop. Yep, it's true, in small town America we still repair our TV's instead of buying new.
Oregon is about an hour from our place, but we've got a similar appliance store nearby called Soukup's, a family owned business run by Doug Soukup. I don't know, maybe I'm wrong but it's kind of nice to know the people you're doing business with. Doug's a great guy and I got him to buy an ad in our newspaper one time when I promised to bring him some Krispy Kreme donuts.
This winter I'll have to get a picture at R.F. Houtz's Cub Cadet dealer. They quit doing business during the lunch hour, sit around and play cards for an hour!