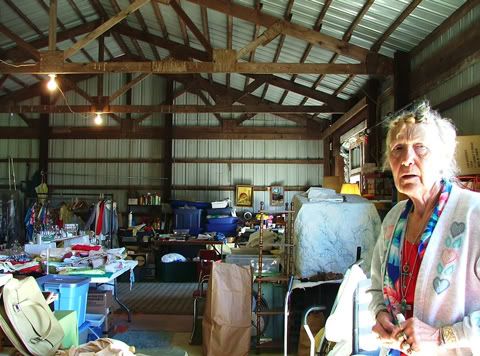 Candid portraits have always fascinated me, and my favorite of all are those of people surrounded by their belongings, or at the very least in their element. It tells volumes about the person that you could never guess if they were posed in a studio.
Recently one of the young photographers at the newspaper was sent on an assignement to capture the image of a local woman who was turning 100. Naturally you think of a close up, showing all the lines and character than age has brought to the face. He returned with a profile shot from a distance, of the woman sitting in her living room, her space. The camera literally ate up the scene - the lace curtains, the womans easy chair, the old lamp with it's fussy lampshade, the wallpaper....the wallpaper alone spoke volumes, an old floral pattern, knick knacks and family pictures finished the scene. It was a marvelous and respectful depiction of the elderly.
This is my attempt at a candid portrait of my neighbor Marge in her element. She surrounded by the remnants of a persons life. These are the items that are left after family members have gone through possessions, choosing for themselves the meaningful, treasured or valuable objects. Left are the odds and ends of life - a few books, glassware, linens, old kitchen gadgets and odd collections that hold no draw for the bereaved. And for me? A set of era 1960's, Frank Sinatra rat pack style on the rocks glasses for my gin & tonic. Cost? 50 cents each.