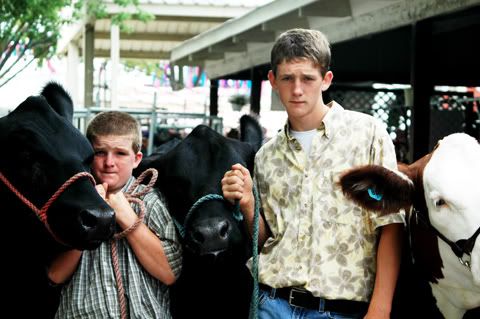 What would you say if I asked you to characterize the expression on the young men's faces in this photograph? Think about it for a minute before you read further.
These two 4-H members are ready to enter the show ring, but alot has happened to get them to this place. The young people are required to have the animals at the fair and in their stalls (exhibits) by 9 p.m. on Tuesday. This requires the help of family and friends to transport, unload, prepare the stalls with straw bedding and provide feeding equipment. The fair is over on Sunday, and for five full days they must feed, water, provide fans in the heat, and muck the stalls......translation - shovel and remove all waste materials. All the time they're responsible for their livestock entered in the fair they also have chores and responsibilities at home, unless they've made arrangements otherwise.
Many of the animals require more attention than others, so the 4-H members in the milking goat barn usually set up cots and sleep in the barn with their animals. The goats need to be milked very early in the morning. Others groups showing different animals take turns staying in the barn and keeping an eye on the club entries.
This photo was taken on Saturday morning, about 9:45 a.m. and it's already 96 degrees. They've been up since probably 5:30 or 6:00 a.m., getting dressed, driving with their families for up to anywhere up to an hour. The steers need to be prepared for show, and that is a lengthy process with entire families pitching in to vacuum, spray, comb, trim, fluff and otherwise "beautify" the beasts! (More on that later).
So there you have it. Two very tired and stressed young men waiting to enter the show ring, and a chance at not only winning a blue ribbon, but the opportunity to auction off their steer and raise enough to pay for a semester at college. My highest regard for all their hard work.
Special Note to Human Resource and Hiring Managers - You might want to take a close look if you see "4-H member" on an applicants resume. They're no stranger to hard work, responsibility and organization.