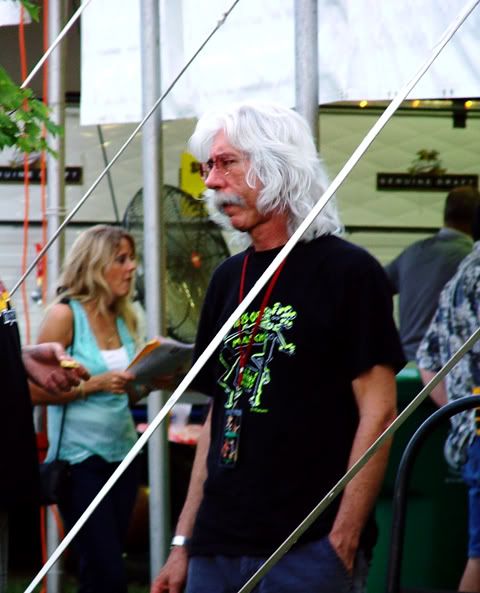 Last evening we attended a cancer fundraising benefit in Crystal Lake. The Gavers Barn Dance was probably held in a barn at one time, but the event is so huge that it's now held in a tent. Not just any tent but one that resembles the tent city of Kubla Khan. We were told that it measured 300 feet long x 100 feet wide. There were over 3,000 people in attendance and plenty of room for everyone!
You'd think that a barn dance would include country and western entertainment, but this event featured native Chicagoans and aging rockers - The Ides of March. My husband had graduated high school with lead singer and songwriter Jim Peterik. Although I did grab a shot or two of Peterik and the band onstage, I always find the entourage much more interesting.
This aging roadie was a literal whirling dervish of activity. It's almost impossible to believe the amount of equipment that a band travels with, and there seemed to be lots of people to handle every task. This included a guitar wrangler whose job it was to set up the guitars in a nifty holding rack and test them all out during the sound check. Curiously I counted at least 3 sound boards, one huge motherboard, one smaller and a smaller one still on the side of the stage where the horn section stood.
So my hats off to the roadies.... as the told disco song goes, "They Work Hard for the Money."