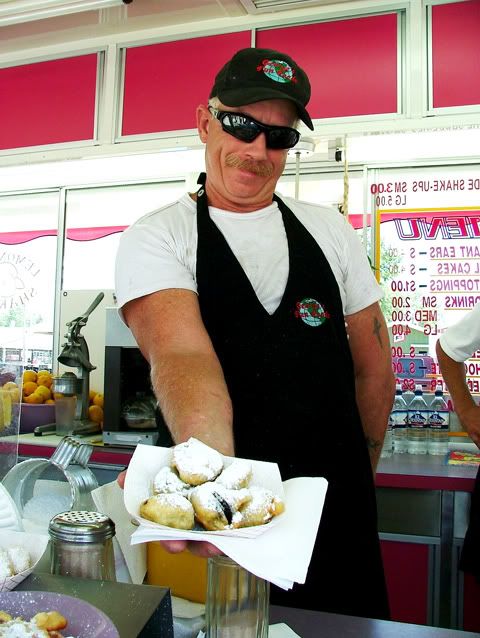 It seems that each year at the fair they seem to come up with some over-the-top treat that is as bizarre as it is ridiculous. Sometimes you order just to say you've tried it. The staple at all local fairs is the funnel cake. Milk, egg and flour goodness in a squiggly circular shape. Lightly dusted with powdered sugar and eaten hot, steaming and beautifully browned.
A couple years ago they came up with fried Snickers bars. WHOA. They were the small individual Snickers coated with batter and fried. They were way too sweet for my taste, but this year they've come up with a winner - - fried Oreos!!!
Yes, oreos dipped in funnel cake batter and fried quickly in very hot oil, and again dusted with powdered sugar. They were quite delicious. The oreo loses it's hard crunchy texture and becomes a warm chocolately cake delight. The creamy center melts and creates an inner glaze. The chef gladly posed serving the creation.