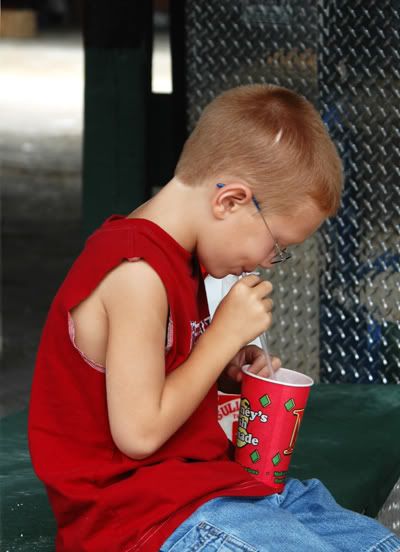 This young gentleman is enjoying the best part of the county fair - lemon shake ups. If you go back to the entry on the fried oreos, and look behind and to the left of the chef you'll see a heavy duty juicer and a stack of lemons.......that's a lemon shake up waiting to happen.
Fresh lemons are squeezed, mixed with a little sugar and some ice cold water. The mixture is poured into a large mixing cup with some chopped ice and then they shake, shake, shake. It's absolutely fantastic, nothing like fresh squeezed lemon juice to tingle your parched mouth.
The barn was hot as the blazes and this youngsters family was just a few steps away "detailing" a steer. More on that later.