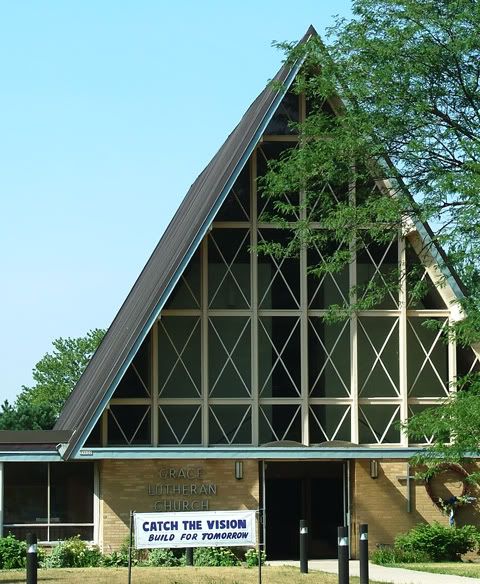 Although we have a St. Charles mailing address, we actually live in the tiny village of Lily Lake. If you're ever driving up Route 47 in northern Illinois just remember not to blink because you'll miss it. There's no "town", no stores, only a gas station down on the corner at the edge of the village. My husband serves in his spare time as the village treasurer, and he claims the population numbers 750. I'm very doubtful of that figure, unless of course it includes pets and livestock....then
maybe.
Even with that small census figure we have two churches, literally just a couple thousand feet from each other. The Congregational church has been featured before, and this is Grace Lutheran church. The small fellowship hall around the back on the lower level also serves as our voting place, and since there's no funeral home around the dead can be waked in the sanctuary, as was the case for Cody's funeral.
Attendance was very light this morning as you can see. Anyone with kids in 4-H were at the fair to prepare for the livestock auction......and anyway it's
100 degrees with 35% humidity and that equals 108 degrees......and the church is NOT air conditioned!!!!
Needless to say the sign out front indicates they are going to be building a new facility.